Stephen M. Kitsoulis
Public Advisor to the Investment Committee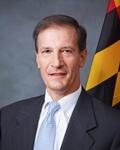 Term: July 1, 2017—June 30, 2020
Public Advisor since 2017
Stephen M. Kitsoulis is Managing Director of Trading, Fixed Income and Currencies for the Howard Hughes Medical Institute, a science philanthropy whose mission is to advance biomedical research and science education. Mr. Kitsoulis has direct responsibility for the Institute's bond portfolio, currency management and hedging, and oversight of internal trading activity across all asset classes. He also works closely with the management team in constructing derivative overlays to manage fund risk. As a senior member of the department's management team he sits on the internal Investment Committee.
Prior to joining the Institute in 1987 he was the Manager of Mortgage Pricing and Securities Analysis at Freddie Mac in Washington, DC. In that position, he was responsible for establishing pricing methodologies for all mortgage product lines and evaluating and structuring corporate securitization and debt funding programs. This included working on the first Collateralized Mortgage Obligation ever issued in 1983. He joined Freddie Mac in 1980 and held various positions in financial planning and asset/liability management before moving into the mortgage finance area.
Mr. Kitsoulis is a past President and Secretary of the Washington Association of Money Managers and previously served on the Investment Advisory Committee of the American Institutes for Research, one of the world's largest behavioral and social science research and evaluation organizations.
He holds an MBA in Finance and Investments from the George Washington University School of Business and a BS in Finance cum laude from the University of Maryland.